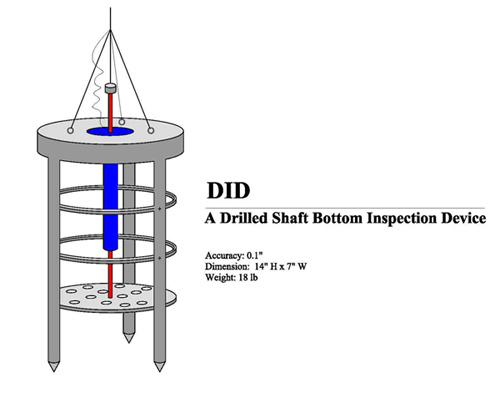 Please click here to review a research paper published in the Deep Foundation Institute Journal, 2015 Vol.9, No.1.
As a critical part of the drilled shaft quality control (FHWA, 1999), inspecting the bottom cleanliness of drilled shafts has always been challenging to contractors, engineers, and field inspectors, especially in the situation of the wet construction method, when direct visual inspections are impossible. Even with the dry construction method, inspectors have been reluctant to inspect the bottom visually due to safety concerns.
On the other hand, most federal and local agencies, such as states' departments of transportation and city building authorities specify that drilled shafts be inspected for bottom cleanliness. Typically, a minimum of 50 percent of the base of each shaft should have less than 0.5 inch of sediment at the time of concrete placement, and the maximum depth of sediment or any debris at any place on the base of the shaft is not allowed to exceed 1.5 inches. Conscientious cleaning of the bottom of drilled shafts has been proven by loads tests to be necessary for suitable load transfer in end bearing.
Developed by John Ding, P.E., the president of DMY Inc., and Patent protected by the USPTO (Patent No. 8151658), Ding Inspection Device (DID) provides an easy and reliable way to inspect the drilled shaft bottom efficiently. It is more definitive than using a weighted tape, but much less cumbersome and costly than other inspection devices.
Watch a video below presented by Dr. Simon.
For more details about and to order a DID, please contact us.